STARTING YOUR BUSINESS WITH NICHE INTEGRATED SOLUTIONS SERVICES
Software and Application Development
Software Testing Services
Why the need for IT Advisory
To gain external, objective advice and recommendations
To gain access to the consultants' specialized expertise
Temporary help during a one-time project where the hiring of a permanent employee(s) is not required or necessary
To outsource all or part of the IT services
We have techniques and tools to address key issues, including defining the future IT strategy and helping your organisation carve out its IT roadmap for the years to come. We support our clients by helping them use technology to achieve their business objectives. We provide independant and objective recommendations in the best interest of you as the client. However, we have multiple partners with global leading technology experts and partners that collobarate with us to bring not only local but international best practices in providing optimal solutions to address your business challenges
Some of the areas in which we we consult are:
IT Strategy definition and execution
Rationalisation of the IT landscape
IT cost reduction and operational transformation
IT resourcing augmentation
Information and analytics
---
Software and application development
Software development is the process of conceiving, specifying, designing, programming, documenting, testing, and bug fixing involved in creating and maintaining applications, frameworks, or other software components. Software development is a process of writing and maintaining the source code, but in a broader sense, it includes all that is involved between the conception of the desired software through to the final manifestation of the software, sometimes in a planned and structured process. Therefore, software development may include research, new development, prototyping, modification, reuse, re-engineering, maintenance, or any other activities that result in software products Our impressively talented experts specialise in crafting unique solutions for your business environment. Our extensive knowledge and passion for groundbreaking technology allow us to provide meaningful tech and business consulting, agile strategies and integration with your existing systems. Our local and international talent pools means that we can we pull the best analysts and software engineers from around the world. Our focus is on delivery, and impeccably built applications and solutions to meet your specific needs and requirements.
---
Software testing services
Focusing on the latest cutting-edge technology trends and testing needs, we have established expertise in functional testing, while strengthening our competence in technology testing areas including Mobility, Automation, Performance and Big Data Testing. We have developed several testing accelerators, frameworks and migration utilities to lower TCO and improve software quality and time-to-market. With extensive experience in delivering Agile Testing services, we support continuous integration, Test Driven Development (TDD) and Behavior Driven Development (BDD) ensuring maximum business value.
---
We help organizations identify, extract, manage and analyze data to make business critical decisions. As Business Intelligence Solution Providers, we offer a comprehensive and integrated practice for Business Intelligence and Data warehousing (DW) along with analytics combining deep technical expertise, industry knowledge and strong partnerships to deliver powerful business solutions.with strong experience across multiple industry verticals, we have built domain specific data models and we have refined them over a period of time to address the critical business questions. This drastically reduces the time-to-decisions and also provides a ready-to-go framework which can be deployed in weeks rather than months. Since every client is different, the solution would be customized to meet the specific needs of the client.
RESOURCING AND RECRUITMENT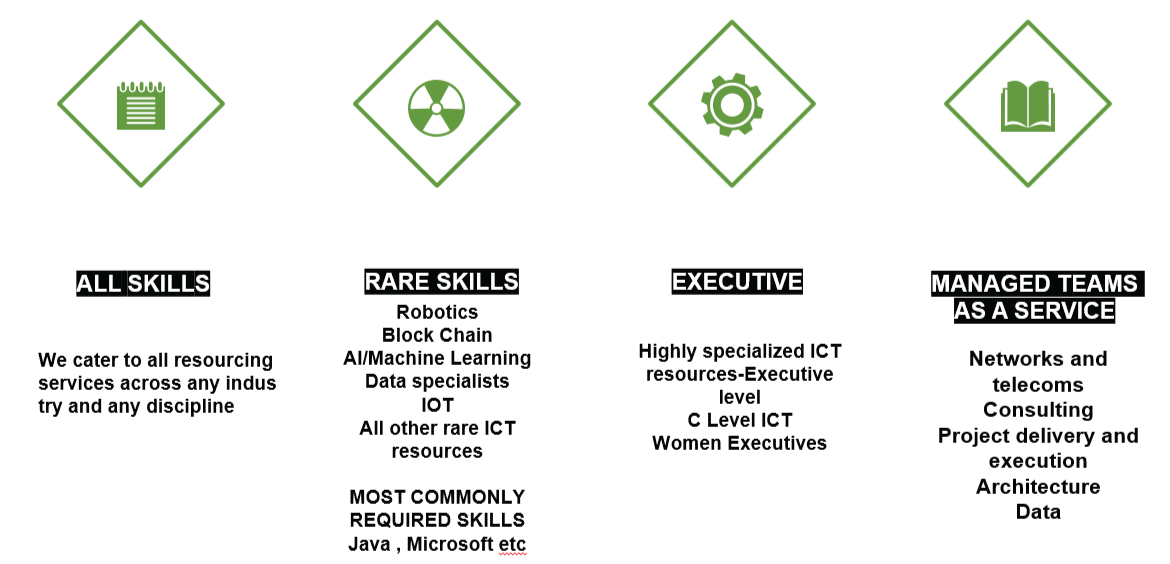 TEAMS AS A SERVICE
MODEL: Teams as a service (TAAS - Consult, Implement, support, maintain)
ICT Consulting/Project Execution (TAAS)
Data Management
Networks (TAAS and Ethernet cost saving initiative)
Robotics Process Automation (TAAS and 'cost saving ' RPA offering)
Security As a Service (SAAS)
Resource Augmentation/recruitment