About Us
South African 100% Women Owned and Lead, Award winning (SMME) ICT company (Level 1 contributor), who provides INNOVATIVE and DISRUPTIVE Business and IT solutions and services.
---
We Offer
CENTRES OF EXCELLENCES IN
ERP (ENTEPRISE RESOURCE PLANNING)
---
Vision
Our vision is to be one of Africa's leading women in tech companies having a profound impact on our clients, the people who work for us and our greater communities
Mission
Our mission is to deliver flawless results to our clients by maintaining eloquence in every business service delivery and project execution
Values
Our business values are impactful, we maintain a high level of ethics, perfection in execution and a constantly promote and learning environment for our employees
Our History
2020
Proud winner of the South African Innovation League, the first women owned company to receive this accolade
2018-2019
nvestment in women and people Launching TechXAfrica 2018
www.techxafrica.com
Niche Integrated Solutions has proudly masterminded TechXAfrica, leveraging off the Global leaders in ICT and combining them with local Emerging Tech Disruptors to create a powerful emerging technology masterclass event, for the first time ever, bringing everyone under ONE roof .
2018: Winner -Women4Africa, UK, International Business women of the year.
2018: Winner South Africa Innovation League.
2017
Innovation in emerging technologies
Niche introduced smart technologies and smart solutions such as IOT, Block Chain, machine learning, Robotics and many other emerging technologies that can enable organisations to transform into light years ahead of where they are now.
2017: Selection-Discovery Tech Entrepreneur-Silicon Valley USA
2017: Winner-Country Winner –Africa's Most influential women in business and government
2017: Winner –SADC Regional Winner –Africa's most influential women in business and government
2017: Winner–Continental Title-African most influential women in business and government
2017: Cited-South Africa's Top 5 women in technology
End 2015 - 2016
Innovation in connectivity
Having realized that networks and telecommunications was the backbone of every organisation, we added networks and telecommunications services and solutions to deliver global coverage to the masses. Connectivity is the one thing that every organization needs and cyber security is the one thing that every organization is forced to have to secure their assets and IP.
2016: Technology Top 100 SA–Innovation.
2016: Selection Top 200 smme South Africa-National Gazelles.
2015
Instead of only looking at international markets and the leaders in their fields, the team also started exploring local talents and delved into challenges being faced even by smme with a lack of access to technology solutions that were affordable even for smme.
2015: Winner Business Women of the year-emerging entrepreneur BWASA.
2015: Ernst& Young, Entrepreneurial Winning Women.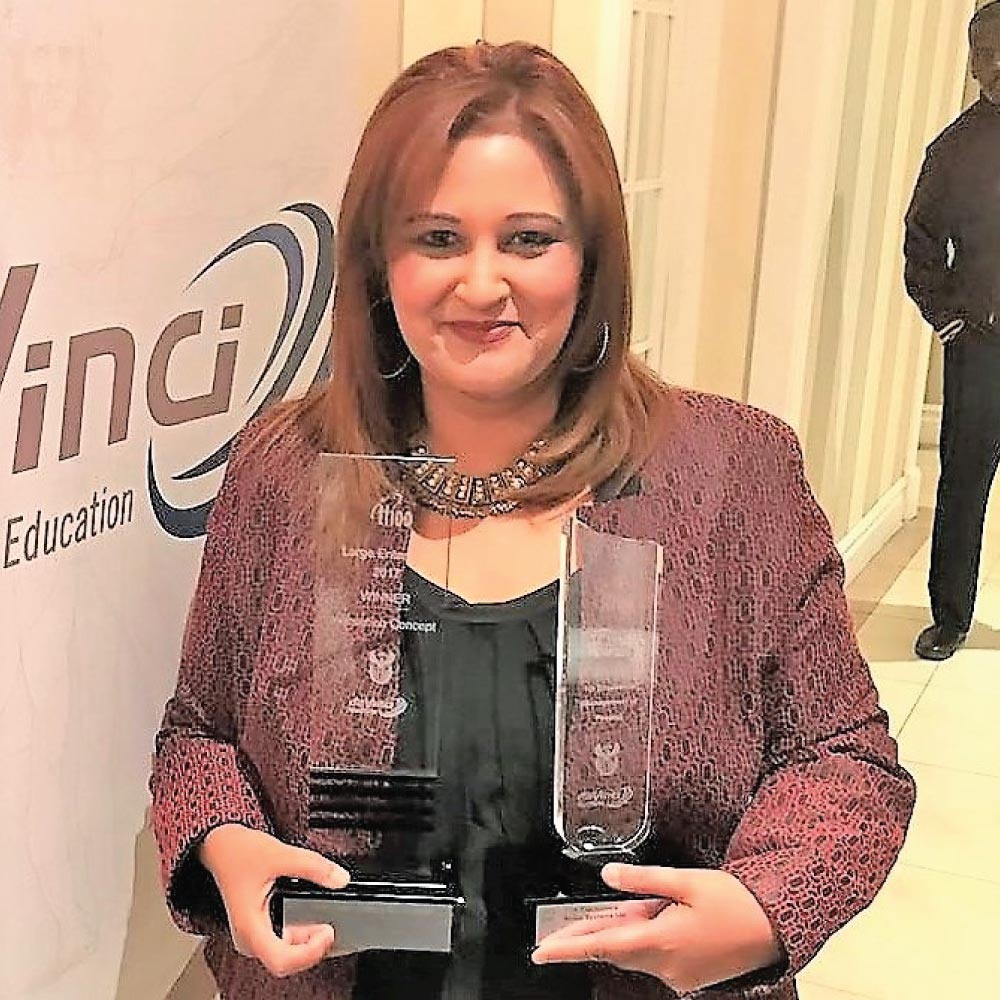 Company founded by Nisha Maharaj, whilst studying at the Da Vinci Institute, management of technology and innovation. Nisha realised that there were critical gaps in available technology resources on the African continent all the way up from corporate giants right down to smme. She wanted to exploit this gap by building a women in tech company aimed at also addressing the context of leading more women into the technology environment She leveraged of international solutions to provide options for Africa through international best practices training African's into local implementations and local support, thereby creating a more lucrative value proposition for African clients.